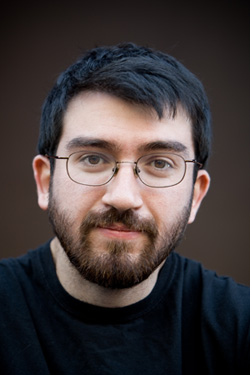 "The famous 30 variations we forever associate with Toronto wonder Glenn Gould sang and danced with care and zing. This was fun, "secular" playing, with many touches of whimsy joining attentive counterpoint. [...] Masters clearly has things to say as a Bach pianist, and the fluent skills to say them."

(Peter K. Mose, former critic for The Toronto Star, editor for Clavier magazine)
"...the young and serious pianist's power and flawless technique were impressive."

(The Boston Musical Intelligencer)
"Richard Masters is an astounding pianist who did justice to Frazelle's demanding score and set the mood and fueled climax of many of the songs. 'In the Night' [...] made very vivid the virtuosity of the pianist."

(Classical Voice of North Carolina)
Richard Masters is a soloist, opera coach, chamber musician and orchestral pianist based in Blacksburg, VA, where he is an assistant professor of piano and collaborative piano on the music faculty at Virginia Tech's School of Performing Arts.
Significant collaborations include concerts with baritone Donnie Ray Albert, mezzo-soprano Kathryn Findlen, mezzo-soprano Barbara Conrad, and many others. He has appeared with former Boston Symphony principal trombonist Norman Bolter, former Juilliard String Quartet violinist Earl Carlyss, saxophonist Harvey Pittel, and under the baton of Lorin Maazel. Masters has performed solo, chamber and vocal recitals throughout the U.S. and in Europe.
As a solo pianist, Masters plays a wide variety of standard and non-traditional repertoire, including contemporary pieces written for or commissioned by him. A strong proponent of contemporary American composers, he has performed world premieres of pieces by Kenneth Frazelle, Charles Nichols, Kent Holliday, and many others. He is an enthusiastic performer of the Great American Songbook: at a recent recital, he revived the virtuoso song transcriptions of mid-20th century cocktail pianist Cy Walter, and has also featured song transcriptions by British novelty pianist Billy Mayerl.
Masters recently appeared on the National Flute Association's 2015 keynote concert in "Wish," a work for flute and piano commissioned by Masters from flutist and composer Valerie Coleman. Other recent appearances include performances at the Isabella Stewart Gardner Museum's "Music at the Gardner" series, a tour of upstate New York, Pennsylvania, and Massachusetts, and concerts in Trinidad & Tobago. In the 2016-2017 season, he will tour the Pacific Northwest, Maryland, Pennsylvania, and will perform the Bach Goldberg Variations in Toronto at Gallery 345 on their "Art of the Piano" series, in New York City at the Roerich Museum, and in Pennsylvania and upstate New York.
His writings include an in-progress volume on American pianists, and a series of articles on the Scotti Grand Opera Company of 1919-1922 and its performers will appear in The Record Collector in 2016.
Richard Masters holds degrees from the Eastman School of Music (DMA), the Juilliard School (MM) and the University of Colorado at Boulder (BM).